---
---
WINTER IS COMMING! METEOR65 IS READY! 

Meteor65, a leading 1S whoop WINTER TIME drone. It's equipped with the BT2.0 connector, lightest F4 1S FC and 0802 19500/22000KV motors. With the stronger and powerful dynamical system, you'll immediately notice how fantastic the 22.84g Meteor racer is at takeoff. It feels amazing as you hover around indoor, then let it rip and haul around the house! 
What's more, Meteor65 comes back on 30th March as a kit,  it is with abundant accessories of 2 lipo batteries, BT2.0 charger & tester, extra 1 set of props, 1 screwdriver and the portable bag. It is easy to use and with a reasonable price! Also, the camera angle has been adjusted to 30°, which brings you greater flying experience!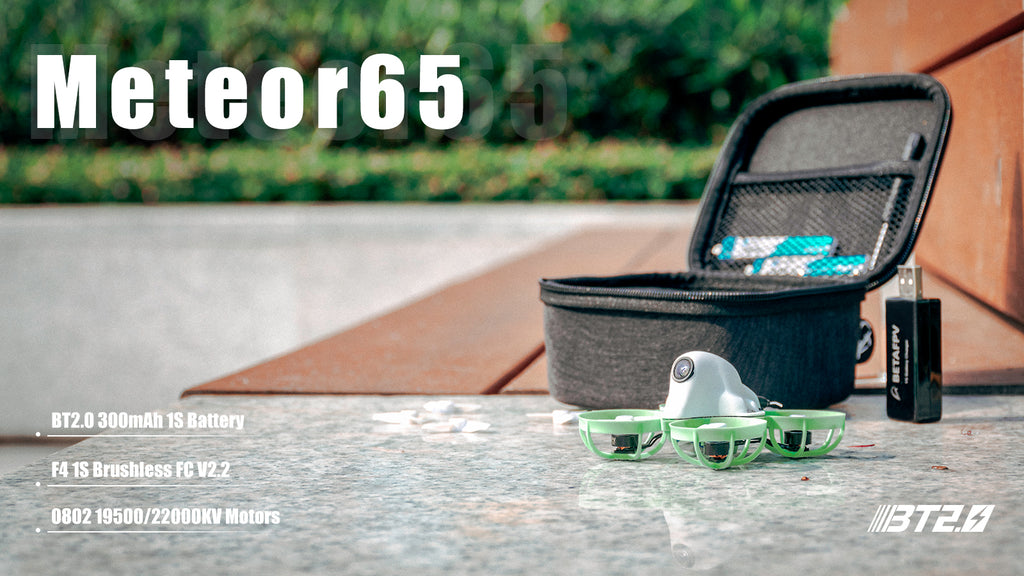 The TBS Crossfire Nano receiver with minimal T Crossfire antenna is available on the Meteor series for all CRSF users. This specific variation is only designed to be small, light, and easy to use.
The performance of a 65mm 1S brushless drone has gone up a new level this winter. What is your exception for this drone? Aggressive power and faster speed, or longer flying time? Here is the comparison of different motors.
0802-22000KV

0802-19500KV 0603-19000KV

0603-16000KV

Flying Time

1:30-2:00min

3:30-4:00min

4:10min

 

Speed & Power

Ultra Insane

Insane

Insane
Thanks for the feedback and advice from Nate Payne and Michael Huddleson. Right now you could choose these spare motors like 0802 Motors 22000KV / 19500KV  or 0603 Motors 19000KV / 16000KV to experience the different flying of our Meteor65.
Video for Meteor65
Bullet Point
Meteor65 is the first generation whoop drone powered by brand-new BT2.0 1S battery. The BT2.0 connector effectively decreases internal connector resistance for a much better discharge performance compared with the initial PH2.0 connector. 

Flight controller pre-soldered the BT2.0 cable, which can provide a more stable and powerful 9A continuous current and 

15A burst.

For minimizing weight and optimal performance, it applies the perfect lightest combo with F4 1S FC V2.2(2.6g) and M01 AIO camera VTX(3g). 

By using the latest 0802 19500 / 22000KV motors and 31mm 3-blade props, this kit provides you a completely different experience of a powerful indoor flight. 

0802 19500 / 22000KV motors are 

features of ball bearing and lead wires soldered to PCB to allow you to repair it easier once it's disconnected. 

Meteor65 lower profile frame is reduced 0.75g to 3.08g only. The battery slot is closer to the centre of gravity for smoother flying experience, and you will land on the motor screws instead of the battery.

The package comes with 2 lipo batteries, BT2.0 charger & tester, extra 1 set of props, 1 screwdriver and a portable bag.  Meanwhile, we have also released BT2.0 Battery charger for your needs.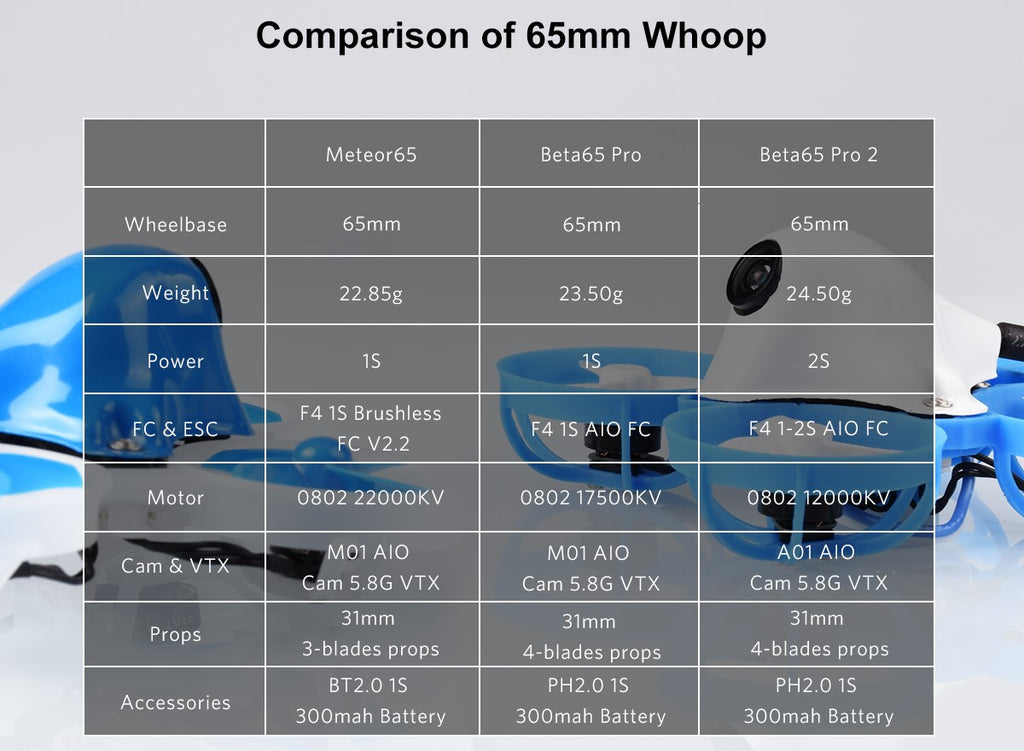 Specification
Item: Meteor65 1S Brushless Whoop
Weight: 22.84g (without battery)
FC&ESC: F4 1S Brushless Flight Controller V2.2
Frame: Meteor65 65mm 1S Brushless Frame
Motors: 0802 19500 / 22000KV Motors
Props: 31mm 3-blade props (1.0mm Shaft)
VTX&Camera: M01 AIO Camera VTX
Canopy: Canopy for Micro Camera
Receiver Option: Frsky XM  / DSMX / Futaba S-FHSS / TBS Crossfire
Battery: BT2.0 300mah 1S Battery
Flight time: 0802 19500KV motor version: 3:30min-4min / 0802 22000KV motor version: 1:30min-2min
BT2.0 Connector
BETAFPV exclusive designed BT2.0 connector has broken through the bottle-neck of PH2.0 connector. BT2.0 connector has decreased internal resistance of connector effectively allowing more current to be transferred, which means it supports 9A continuous current (15A burst). This means stronger power and longer flight time on 1S brushless drones while PH2.0 just supports 4.5A. You can enjoy more flight time without disturb of low voltage warning due to reducing voltage sag. 
See the graph below of comparing the BT2.0 connector and PH2.0 connector (solid pin version) in BETAFPV 1S 300mAh battery. The discharge current is 9A in this test. The BT2.0 has double the time (about 2 minutes) and a 0.2v improvement in voltage sag.
Not sure if it's worth to switch BT2.0? Check more from Joshua Bardwell'video- Proof that BT2.0 connector is better than PH 2.0
Much more choices of BT2.0 series accessories.  
We know some of pilots might have a question about how to deal with the old PH2.0 1S battery. So we provide some accessories like BT2.0 connectors for those people who want to convert the PH2.0 connector to BT2.0 connector. 
BT2.0 Connectors (10pcs)
2S Whoop Cable Pigtail (BT 2.0)
BT2.0 1S Whoop Cable Pigtail
BT2.0-PH2.0 Adapter Cable
BT2.0 Battery Charger and Voltage Tester 
BT2.0 Connector 1S Lipo Charger Board
BT2.0 450mAh 1S Battery
BT2.0 300mAh 1S Battery
BT2.0 260mAh 1S Battery
Flight Controller
F4 1S brushless FC V2.2- This is the lightest FC in the current market. It has a
slim and sleek design, weighs just 2.69g and performs better giving it maximum weight savings, power, and responsiveness.
Camera & VTX
M01 AIO Camera VTX- The unit is ultra-lightweight only 3g, perfect for Meteor65. It comes with a super Mini 5.8GHz FPV Transmitter + 800TVL C01 Camera + RG178 Antenna, features 6 bands and 48 channels on the 5.8GHz band with Raceband.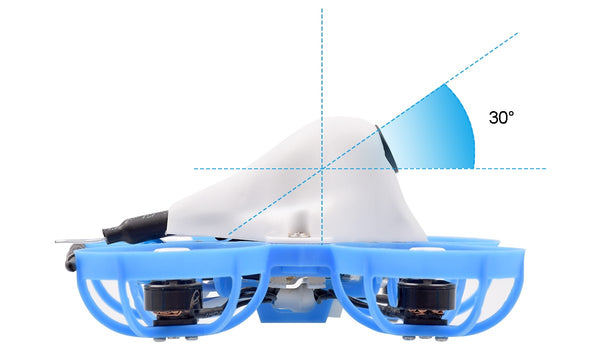 Motors
0802 19500 / 22000KV motors using ball bearing instead of brass bushings, and PCB connector. More durable and easier to repair once disconnection. 
Frame
The lightest lower profile 65mm frame- Meteor65 frame is reduced 0.75g
to 3.14g only. The battery slot is closer to the centre of gravity for a
smoother flying experience, and you will land on the motor screws instead of the battery. There are more options for colourful frames such as Beta-blue, mint-green, sakura-pink, mango-orange, etc.
Package
1 * Meteor65 Brushless Whoop Quadcopter (1S)
2 * 300mAh 1S 30C Battery with BT2.0 connector
1 * BT2.0 Battery Charger and Voltage Tester
1 *

 

Customized Carry Case

1 * Spare 31mm 3-blade props (1.0mm Shaft)
1 * S

crewdriver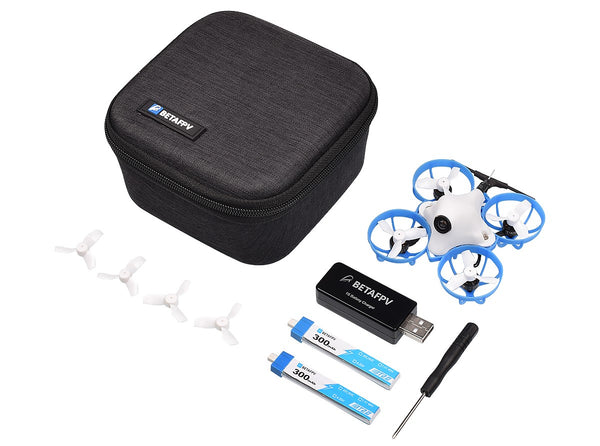 ---